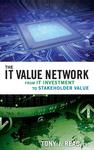 Title
The IT Value Network: From IT Investment to Stakeholder Value
Description
Learn to measure and manage the real value of IT investment and spending
IT investments are becoming more than just business enablers or assets on the books; they provide capability that can drive the business. Thought leadership should migrate towards information investment, getting a bigger bang for the buck from the 'I' in IT and from the 'I' in CIO.
The IT Value Network: From IT Investment to Stakeholder Economic Value incorporates new emerging decision support methods, such as real options, which are considered to complement traditional financial measures. Organizational and informational economic based techniques are also incorporated to manage and assess IT investments, including the balanced scorecard (BSC), and investment and portfolio management; in addition to coverage of IT key performance indicators and competitive benchmarking.
Publisher
John Wiley & Sons, Inc.
Keywords
information technology, IT, IT investments, balanced scorecard, invesment, portfolio management, competitive benchmarking, key performance indicators
Disciplines
Business | Technology and Innovation
Faculty
Pilon School of Business
Creative Commons License


This work is licensed under a Creative Commons Attribution-Noncommercial-No Derivative Works 4.0 License.
SOURCE Citation
Read, Tony J., "The IT Value Network: From IT Investment to Stakeholder Value" (2009). Books & Chapters. 5.
https://source.sheridancollege.ca/pilon_book/5
Original Citation
Read, T. J. (2009). The IT value network: From IT investment to stakeholder value. Hoboken, N.J: John Wiley and Sons.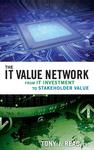 COinS